Transport
Enugu is strategically positioned in the southeast of the country and has a large network of roads, which is currently being expanded and/or rehabilitated. The road network comprises federal roads, which connect Enugu to other states of the country and state roads, which connect the various Local Government Headquarters in the State. Enugu is only an approximately 3 driving hours away from Port Harcourt and Warri and 4 hours to Calabar, all coastal cities with major shipping ports. Onitsha is 1 hour away and it is a 2 1/2 hours' drive from Aba, both of which are major trading centres in Nigeria. Abuja and Lagos, the administrative and commercial headquarters of Nigeria respectively, are also in its reach with a 6 to 8 hours drive.

Apart from the network of roads, Enugu is also host to one of the oldest railway stations, built in 1916, with connections to Port Harcourt going south and Kano and Maiduguri northwards. Because of the track's narrow curves, the maximum speed is around 40 km per hour, but as it cuts through parts of untouched landscape, it is worth giving it a try if you have the time. In addition, Enugu airport serves daily flights to Abuja, Lagos, Jos and Port Harcourt with domestic airlines.

To get around in the city, you can stop an okada, a commercial motorcyclist, to bring you to your destination. For bigger distance, you can take one of the mini-vans serving fixed routes through the city, or if not on the way of destination, you can get a shared or drop taxi. The latter brings you directly to your destination, but is also more expensive.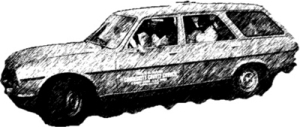 Long distance 504 station wagon

For journeys outside the city, you either have to go to the 9th mile, old motorpark (Ogbete market), New Market or Gariki motorpark. New Market serves destinations going to Onitsha and the west, 9th Mile for the directions going to Abuja, Jos and the north, while Gariki motorpark serves destinations in the southeast. The Ogbete motorpark serves both directions going north (the old motorpark opposite the prison) and south (near the Holy Ghost Cathedral). You find that the different motorparks show overlap in their destinations, and dependent on where you are exactly going to, one may be preferred in terms of direct connection, the time of day and waiting time till the car or bus gets filled up. Going to Abuja or Jos, recommendation is to leave just after sunrise to pick up a car in 9th mile.

The motorpark allows you to choose a car, mini-van or bus, dependent on your patience and budget. You might be amazed that you can actually fit ten persons in a 504 Peugeot station wagon, with a built-in third bench in the back or fifteen persons in a Japanese mini-van. Just one tip, avoid travelling during the night: not only because not all cars are fitted with proper head/tail lights, but more for the accidents and deep potholes in the road which can cause some serious delay to your journey.
Conversation: Have a Safe Journey
♬ Click here to listen to this conversation.
- Aga m ama üzö gaa n'ülö m echi.
I am going early to my house tomorrow.
- Echiche gï amaka.
That is a good idea (Your idea is good).
- Biko, gwa m ebe m ga ahü ödü ndï ügbö ala na-ga Obiöma Street?
Ö dï nso na ebea?
Please tell me where I can find the motorpark going to Obioma Street?
Is it close from here?
- E-e, ö dï ezigbo nso.
Yes, it is very near.
- Chelu, olee ebe ï na-aga?
Wait, where are you going?
- Ana m aga Obiöma Street?
I am going to Obioma Street.
Nkea ö na-aga Obiöma Street?
Is this going to Obioma Street?
- E-e.
Yes.
- Biko, buga m Obiöma street.
Please, take me to Obioma Street
- Olee ebe i bi na Obiöma Street?
Where do you live in Obioma Street?
- Ebi m na 6, Obiöma Lane.
I live in 6, Obioma Lane.
- Ego ole ka ïga ana m maka ïga obioma?
How much is it to go to Obioma?
- Ego ole ka i ji?
How much do you have?
- Eji m Naira iri anö.
I have forty Naira.
- Mba, kwüö m Naira iri ise.
- Ö dï mma.
No, pay me fifty Naira.
Ok.
- Daalü enyi m, anyï ga-ahü özö.
Well done my friend, we shall see again.
- Deeme enyi m, jee nke öma.
Well done my friend, I wish you a good journey.
Vocabulary
| | |
| --- | --- |
| ala | earth, ground |
| ügbö ala | car, motor |
| elu | height |
| ügbö elu | airplane |
| mmiri | water |
| ügbö mmiri | boat |
| ödü ügbö ala | motorpark |
| ogbatumtum | motor-cycle |
| njem | travel |
| ka | so that, that |
| na | and, at, in, on, within |
| ego | money |

| | |
| --- | --- |
| ole | how many |
| iche | to think |
| echiche | thought, idea |
| üzö | early |
| biko | please |
| gwa | tell (verb) |
| nso | close, nearby |
| jide | possess, hold (verb) |
| kwüö ügwö | pay (verb) |
| daalü | well done |
| hü | see (verb) |
| chere | wait (verb) |
Grammar: Infinitives, Participles and Auxiliaries
Infinitives have a vowel prefix, i or ï, harmonising with the vowel of the verb stem.
Examples:
| | |
| --- | --- |
| ime | to do |
| isi | to cook |
| ire | to sell |
| igbu | to kill |
| izute | to meet |
| ili | to bury |

| | |
| --- | --- |
| ikwö | to carry on one's back |
| ïta | to chew |
| ïnü | to hear |
| ïchö | to want |
| ïza | to sweep |
| ïmü | to learn |
The negative infinitive has the e- or a- prefix and ghi or ghï suffix, both harmonising with the vowel of the verb stem:
| | | | |
| --- | --- | --- | --- |
| emeghi | not to do | azaghï | not to sweep |
| etoghi | not to grow | amüghï | not to learn |
Participles are formed by a preceding vowel, e- or a-, and the verb stem:
| | | | |
| --- | --- | --- | --- |
| esi | cooking | aga | going |
| eme | doing | amü | learning |
The participle is used with an auxiliary to specify its action. The auxiliary precedes the participle and is connected with it through a hyphen if immediately followed by the participle.
Examples:
| | |
| --- | --- |
| na | used as auxiliary to specify continuing action in the present: |




| | |
| --- | --- |
| ana m azü anü | I am buying meat |
| ö na-esi anü | he is cooking meat |




| | |
| --- | --- |
| ga | used as auxiliary to indicate future action: |




| | |
| --- | --- |
| aga m azü anü | I will buy meat |
| ö ga-esi anü | he will cook meat |
The negative form has an a- (or e-) prefix and ghï (or ghi) suffix attached to the auxiliary:
| | |
| --- | --- |
| anaghï m azü anü | I am not buying meat |
| ö anaghï esi anu | He is not cooking meat |