Education
There are over 100 primary schools, 30 secondary schools and 5 tertiary institutions in Enugu State. Most of the schools are funded and run by Government, but there are also a good number of private nursery, primary and secondary schools in the state.

The University of Nigeria, founded in 1960, is the first indigenous university in Nigeria and located in Nsukka with a campus in Enugu town. The previous and very first university in Nigeria has been set-up in Ibadan before independence in 1949 and is affiliated with universities in England. Enugu State also hosts the Enugu State University of Science and Technology (ESUT), formerly known as the Anambra State University of Science and Technology, Institute of Management and Technology (IMT), Our Saviour's Institute of Science, Agriculture and Technology (OSISATECH – the first private polytechnic in the state) and the Eha-Amufu College of Education.

The educational system in Nigeria starts with nursery, managed by private institutions only, when the child is aged around three to four years. Primary school follows when they reach the age of five. From the age twelve, this is followed by three years of Junior Senior School, which are completed by the JSS exam. Then, three more years of Senior Secondary School is required.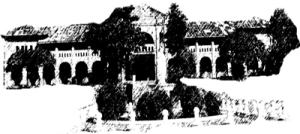 College of Immaculate Conception (CIC) in Enugu

For admission to the Polytechnic or University, pupils have to pass the JAMB (Joint Admission and Matriculation Board) exam that is at the end of the third year of Senior Secondary School. This needs to go together with either four GCE credits for the admission to Polytechnic or five credits for University, among which English language is mandatory.

With two years of Polytechnic, you obtain the Ordinary National Diploma (OND) title, and with one year of industrial attachment and two years of further Polytechnic education, the Higher National Degree (HND) title can be awarded.

For university, four or five years are required to become BA (Bachelor of Arts) or B.Sc. (Bachelor of Science). After finishing the higher education, one extra year of youth service is required. The National Youth Service Corps (NYSC) involves an internship with companies or government in other parts of the county than where the person has been brought up, encouraging national integration and unity in Nigeria.

There is a strict dress code for all primary and secondary schools with school uniform and shaved head for both girls and boys. Also, there is a federal imperative to make primary school education free of registration fees, though still some work needs to be done in this area.
Conversation: Going to School
♬ Click here to listen to this conversation.
| | |
| --- | --- |
| Ümü aka na-aga n'ülö akwükwö. | The children are going to school. |
| Aha ülö akwükwö ha bü St. Patrick. | The name of their school is St. Patrick. |
| - Nwata kïrï nwanyïa bü nwata akwükwö. | This girl is a pupil. |
| - Arö ole ka ö dï? | How old is she? |
| - Ö dï arö asatö. | She is eight years old. |
| - Olee clasï nke ö nö? | Which grade is she in? |
| - Ö nö na clasï nke atö n'ülö akwükwö prïmarï. | She is in the third grade in primary school. |
| - Olee ihe ï na-amü? | What are you studying? |
| - Ana m amü maka Bayïlöjï. | I am studying Biology. |
| - Ï ma maka Bïölögï öfüma? | Are you good at Biology? |
| - E-e, ama m öfüma. | Yes, I am good. |
| - Na oge ehihie, ana m amü ka esi eme mgbakö na nwepu. | In the afternoon, I study calculations. |
| - Olee ihe ï chörö ïbü? | What do you want to become? |
| - Achörö m ïbü njïnïa. | I want to become an engineer. |
| Achörö m ïga ülö mahadüm nke kasi mma. | I want to go to the best university. |
| - Nwanyia ö bü onye nkuzi gï? | Is she your teacher? |
| - Mba, ö na akuzi na ülö akwükwö seköndïrï. | No, she teaches in the secondary school. |
Vocabulary
| | |
| --- | --- |
| akwükwö | book, paper |
| ülö akwükwö | school |
| öba-akwükwö | library |
| nwata kïrï nwanyï | girl |
| nwata akwükwö | student/pupil |
| ore akwükwö | book seller |
| ihe öma | good thing |
| ihe öjöö | bad thing |
| ezi omume | good behaviour |
| akwa öcha | white cloth |

| | |
| --- | --- |
| mahadüm | university |
| onye nkuzi | teacher |
| ahö | year |
| müö | learn |
| öfüma | well, properly |
| ehihie | afternoon |
| mgbakö | addition, adding up |
| kuzie | teach (verb) |
| ögügü | reading, count |
| elementrï | primary school |
| arö | year |
Grammar: Tense and Suffixes
In Igbo language, verbs do not distinguish between present and past tense. The meaning of the verb is generally changed by the suffix that specifies the action in the present or past. Some of these suffixes harmonise with the verb stem, others do not, and sometimes multiple suffixes can follow each other in a combination.
The most commonly suffixes used are:
-tara/-tere
-ra/-re
action in the past (he did)
-la/-le
completed action (he has done)
-bü/-bu
a past continuous action (he used to do)
-ri
past completed action (he did)
-ba
continue doing, starting an action (start doing)
-go
already completed the action (have done)
-bago
already completing the action (already doing, already done)
-lu
to indicate an intensification of the action of the verb
-ta
brings an action to completion
-kwazi
also, as well
-re
present continuous action (is doing)
Examples:
| | |
| --- | --- |
| ö zütara anü | he bought meat |
| o butere ya | he brought it |
| ï bïara? | did you come? |
| o gwüla | it is finished |
| o rule | it is time |
| ana m azübü anü | I used to buy meat |
| o biri ebea | he lived here |
| o riri anü | he ate meat |
| o bigo ebe ahü | he has lived there |
| o rigo anü | he has eaten meat |
| o ribago nrï | he has already started eating |
| anabago m | I am already going |
| ö nabago | he has already gone |
| chelu | wait! |
| weta ego | bring money |
| abukwazi m Mike | I am also Mike |
| Olee ka i mere? | How are you doing? |
There are more verb tenses in Igbo language. One tense is used to start a conversation or speech or is used in a sentence introduced by another verb. This tense is formed by a harmonising a- or e- prefix with the verb stem:
| | |
| --- | --- |
| unu enwere mmiri na ökülatrïk? | do you have water and electricity? (opening question) |
To go in more details would go beyond the scope of this book, and I would suggest to read the grammar books mentioned in the references.